NAKTC - 2001 Triple of the Month Archive
Please be patient while all images are loading.....
---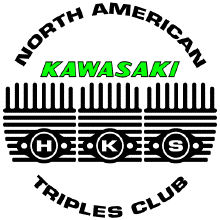 ---
---
Triple of the Month (Jan 2001)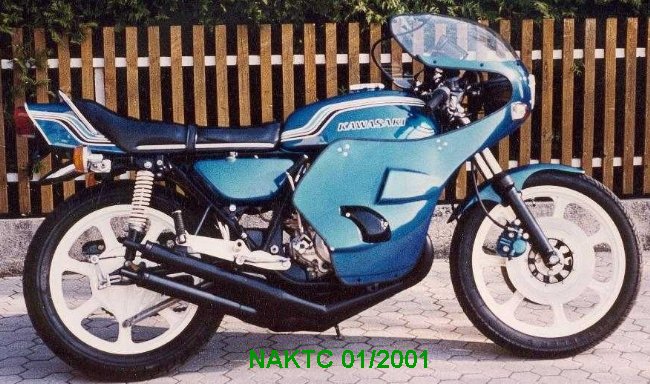 Submitter: Gerhard (Gerlo) Schauer of Germany
Bike: '72 H2
Hi - My name is Gerhard ( Gerlo ) Schauer, I´m from Woerth, Bavaria, Germany.
My 72 H2 has 16,000 miles. I bought it in pieces and restored it completely with a friend of mine. I put Lester Wells on it, a Figarolli Exhaust 3 in 3 ( no silencers), racing handlebar,TZ350 Yamaha Race fairing and Koni shocks. The paint is not original, but it looks nice. I mostly ride it with the original exhaust since the Figarollis are too loud. It runs good and I have much fun.
Regards -
Gerlo
Click on link for another pic: PIC#2
Email: gerhard.schauer@goodyear.com

---
Triple of the Month (Feb 2001)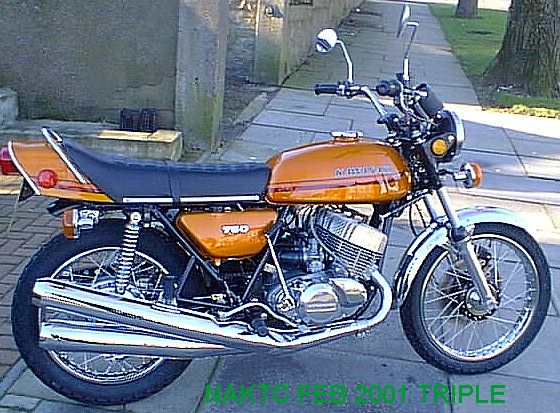 Submitter: Ray of Scotland
Bike: '73 H2A
Hi - Please find a pic of my H2A which I just bought. This bike came via Sinagpore to the UK in 1981, a ground-up complete restoration, with one of the quietest H2 motors I have ever heard. Hopefully when the snow clears I get out on it.
Ray
Scotland
Email: desswood@aol.com

---
Triple of the Month (March 2001)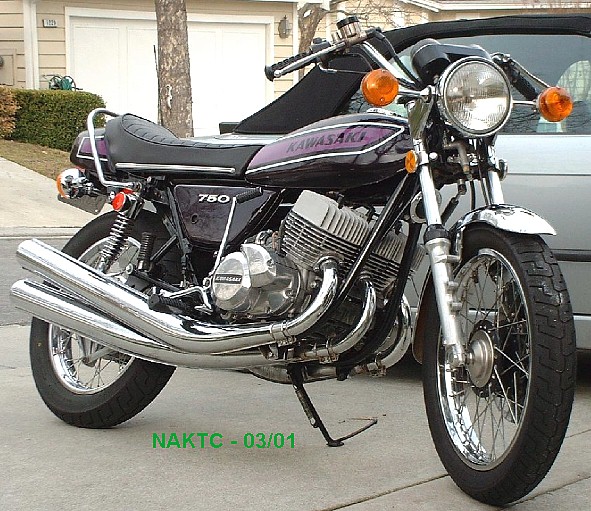 Submitter: Tyson Ferrer of California (NAKT Member)
Bike: '75 H2C
This is only the second purple H2C since September 1998. This H2C still has standard bore and runs fantastic. Carbs recently rebuilt and top-end bead blasted by Purple Haze. Brand new Dunlop K591's installed that means it is hitting the streets again.
Email: tdferrer@mindspring.com

---
Triple of the Month (April 2001)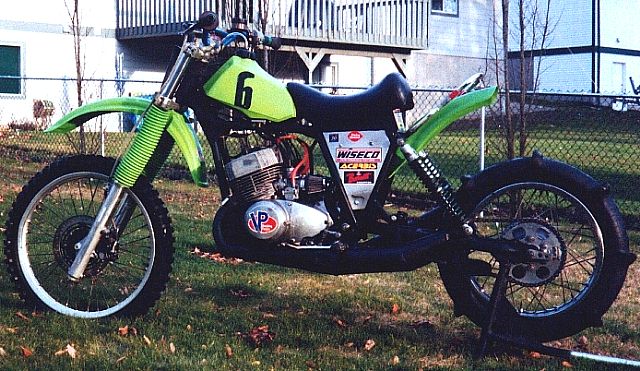 Submitter: Gary Marseden of Canada (NAKTC Member)
Bike: 'H1 Hill-Climber
This may not be a conventional triple....and then again....are triples conventional? Of course not! At first glance, it looks like a normal dirt bike but this bike is a lot more than that -- the claws from the rear rubber pretty gives it away. Gary has been involving with hill-climbing for many years and also got his son in this exciting sport. Want to learn more about hill-climbing with a triple? Just contact Gary at email below for more info.
Email: gemarsden@home.com

---
Triple of the Month (May 2001)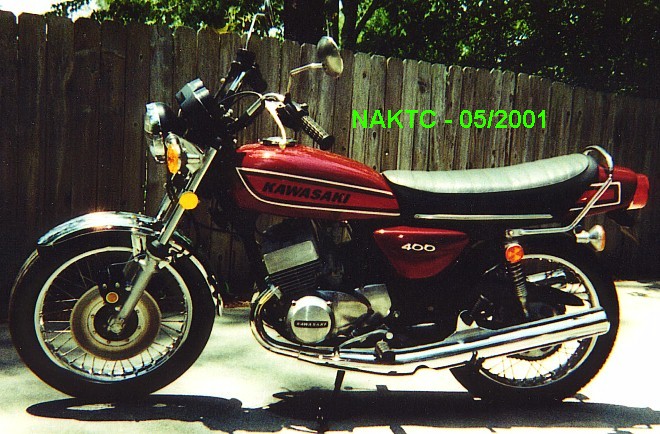 Submitter: mraxl@email.msn.com of Mississippi
Bike: '75 S3A
Owner did not state name but bike is identifiable. This bike looks very similar to its bigger brother, H2C.
Email as received from owner below:
I purchased this S3A new in 1975. It had been in storage since 1985 with 11,000 mi when I decided to clean it up. Still runs like new! Located in Mississippi.
Email: mraxl@email.msn.com

---
Triple of the Month (June 2001)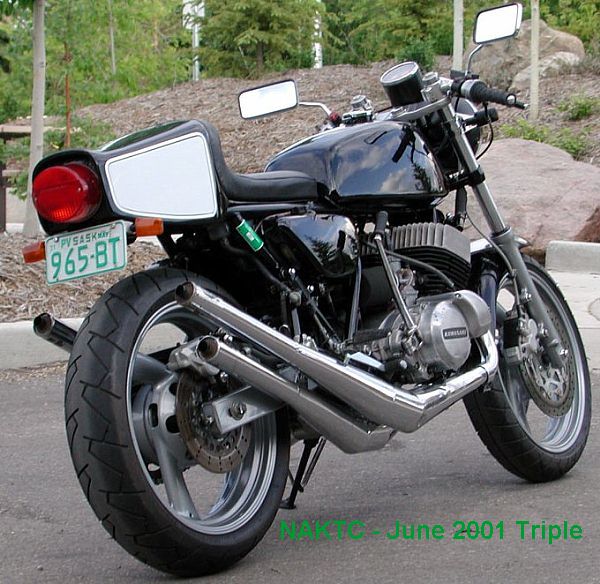 Submitter: Robert Ashton of Saskatoon Saskatchewan, Canada
Bike: '72 H2
Robert did not leave much info on this bike but it's obvious that it wasn't a simple project. We can assure that Robert will be receiving emails from triple fans about his bike.
Email: ashton@src.sk.ca

---
Triple of the Month (July 2001)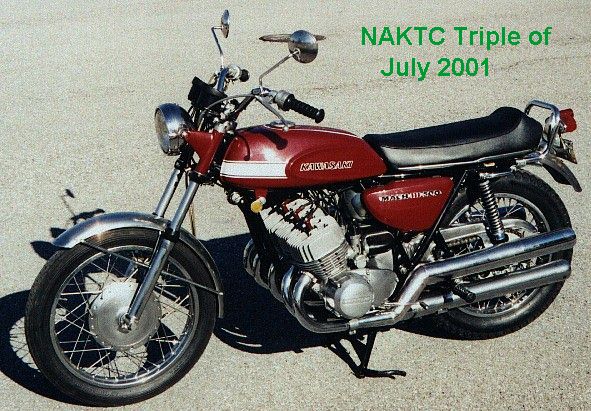 Submitter: Clive of Tennessee
Bike: '70 H1
Hey, wait a minute, does this bike qualify to be Triple of the Month? What do you call a triple with 5 cylinders....Quintriplet? This is the 1st real photo of a triple-based 5-cylinder (830 c.c.) has ever been submitted to the NAKTC. Bike was built by Allen Millyard from the U.K. and is the only one of its kind in the U.S. I bet that we are all wondering what would it be like riding this incredible machine.
Email: JUNEANDAPRIL@aol.com

---
Triple of the Month (August 2001)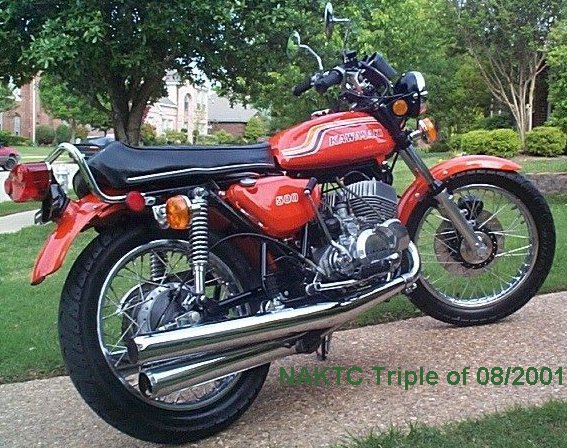 Submitter: Tony Darata of Texas
Bike: '72 H1B
This is Tony's 3rd triple of the month. Tony goes all-out when restoring a bike as the picture speaks for itself. Just a year ago or so, Tony sent a picture of this bike when it was still in boxes as parts. This has to be the best looking H1B on the NAKTC site so far. Contact the owner below if you have questions.
Email: ACD.KRD@VERIZON.NET

---
Triple of the Month (September 2001)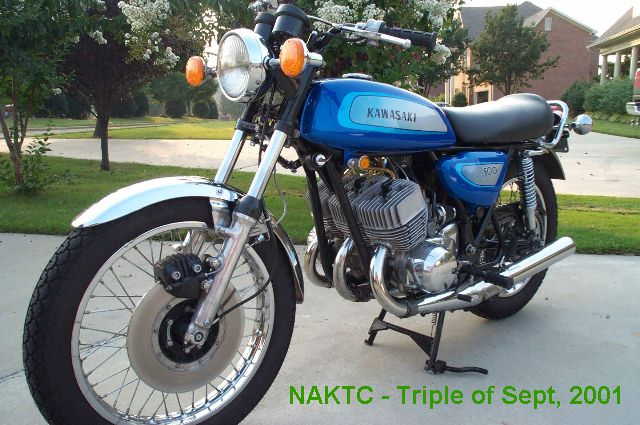 Submitter: Rick V. H.
Bike: '721H1A
'71 H1A fully restored: engine, frame, body work, and including an upgrade to front disk brake using a complete H2 front end. The seat is modified with a much more sleeker look. Bike runs great.
Email: Nikkie9253@aol.com

---
Triple of the Month (October 2001)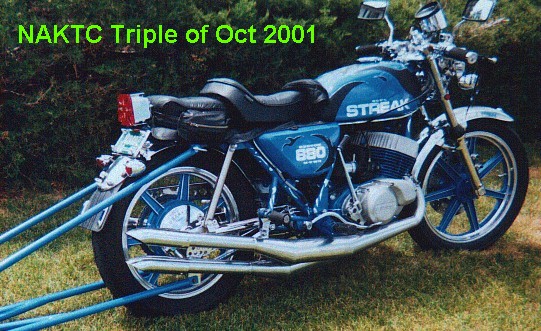 Submitter: Christopher "Dragonslayer" J. of PA
Bike: '72 H2 "Blue Streak"
A 7-year ground-up restoration project finally reached its destination. "Dragonslayer" refers to this bike as money pit since he lost count at about $9,000. You gotta admit, this is one-of-a-kind H2, especially with the motor punched out to 880 c.c along with all the radical touches. "Dragon" had this beast blasting down hill, passing a cop at over 160 mph with a trail of Blue Streak ....hmmm....wonder what happened after that?
Email: cajohns63@hotmail.com

---
Triple of the Month (November 2001)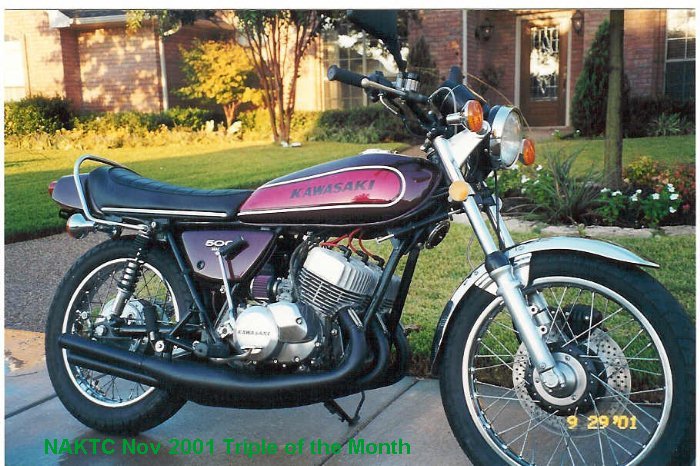 Submitter: David Hilton of Texas
Bike: '74 H1E
Motor work done by Matt "Maddog" Chalmers. The stock paint job was done by Color-Works in Keller Tx. David emphasized that the bike handles very well and the engine is amazing with all the adrenaline rush. David also indicated that it is a real pleasure to see it in the garage every morning.
David: kim01@flash.net

---
Triple of the Month (December 2001)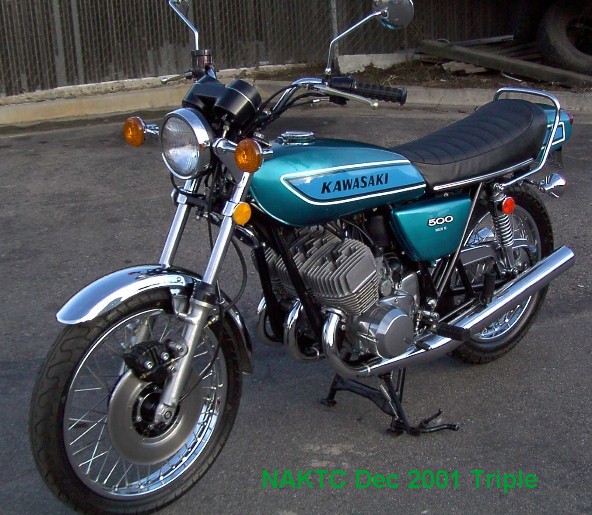 Submitter: Grant Hellinger
Bike: '75 H1F
Orignally from London, England, and now lives in Huntington beach California, Grant has been involving with triples for almost 30 years and still is at it. Introducing one of his peaches is a 2300 miles H1F in totally stock mint condition (exception of tires) with all the original toolkit and manual on board.
David: seaski@deltanet.com

---