NAKTC - 2002 Triple of the Month Archive
Please be patient while all images are loading.....
---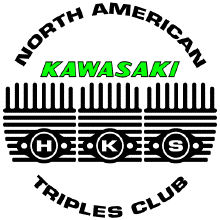 ---
---
Triple of the Month (Jan 2002)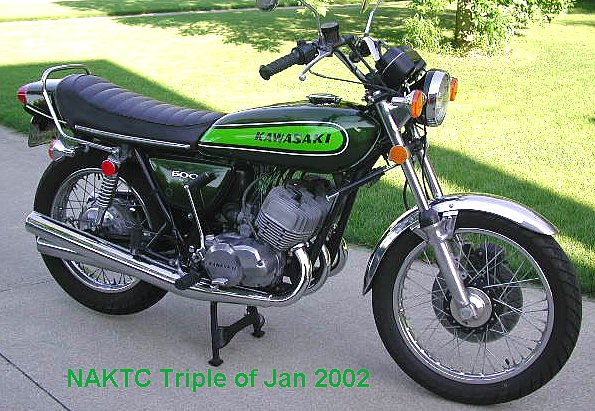 Submitter: Mike Simon of Ohio (NAKTC)
Bike: '73 H1D
1973 was the year that this 2nd generation was introduced. The painted tail section was added to give the bike a sleeker look. It did take a chunk of time and money for mike to get this H1D to be in this condition....very nice!
Email: Mike.Simon@LuK-AS.com

---
Triple of the Month (Feb 2002)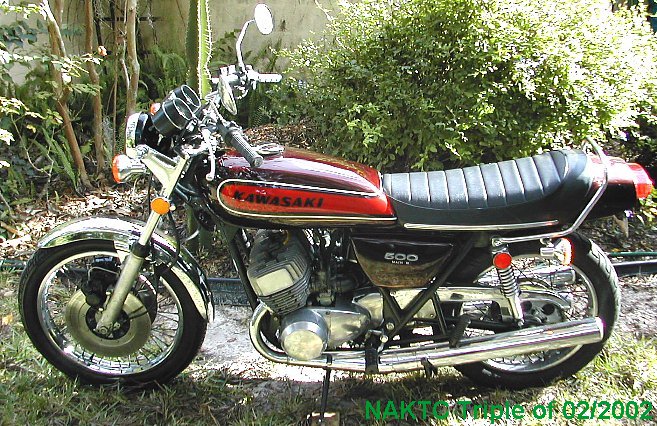 Submitter: Ed Zunz of Sarasota, Florida
Bike: '74 H1E 500
Ed purchased it in 1985 in rough shape. It took many years to get the bike to be in this beautiful shape. It's best to not look back to see how much money was spent on the restoration project.
Email: Kimzunz@aol.com

---
Triple of the Month (March 2002)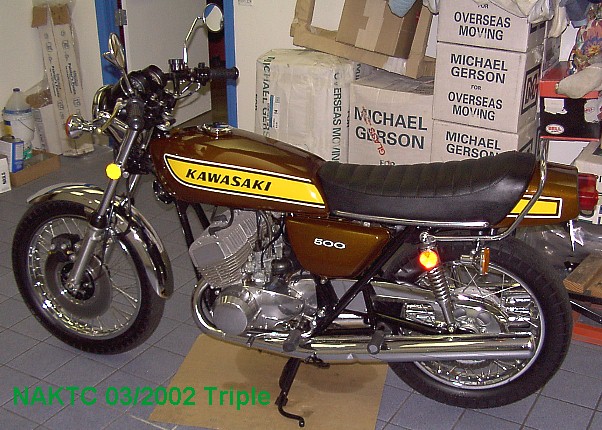 Submitter: Grant Hellinger of California
Bike: '75 H1F
Grant was originally from London England but now living in Huntington beach Ca. Grant has been collecting a lot of extremely nice triples over many years as well as other non-Kawie rare bikes. Grant do sell and trade his collection from time to time. Grant sent me a pic of this extraordinary 1000-mile, original yellow H1F and I had to place it as Triple of the Month....just too darn nice to say much more about it.
Email: seaski@deltanet.com
---
Triple of the Month (March 2002)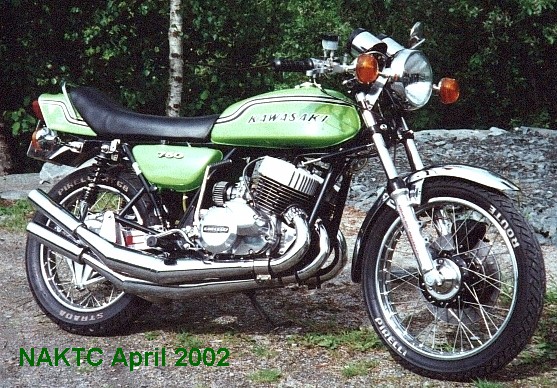 Submitter: Jarle Fyske of Norway
Bike: '73 H2A
If Kawasaki did release an H2 in the early 70s that had the color scheme just just like the above picture, then it wouldn't be a surprise to see more of these in magazines and all over the world. Who knows, this color scheme may outshine the blue model. Jarle really did a terrific job modifying his triple that is pleasing to the eyes .
Email: a-ka-b@online.no
---
Triple of the Month (May 2002)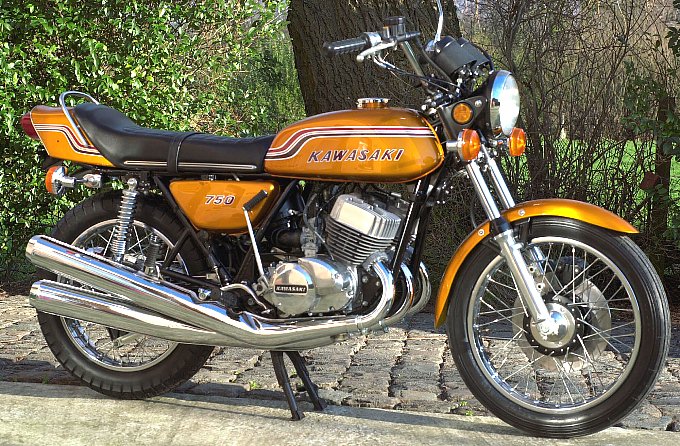 Submitter: Marc of Belgium
Bike: '72 H2
Are you ready for this? What we have here could be one of the most rarest H2's on earth. The fact this H2 is a very early model, dated back in '71/'72, makes it very special. The second fact is this bike is gold which sometimes mistakened for a '73 H2A. Thirdly but definitely not lasly, it is NOS....never had the engine turned over. Incredible piece of H2 legend.
Note: It is believed that this particular model was not imported to the U.S.. Most of these models are seen in Europe and Japan.
Email: mverboven@skynet.be
---
Triple of the Month (June 2002)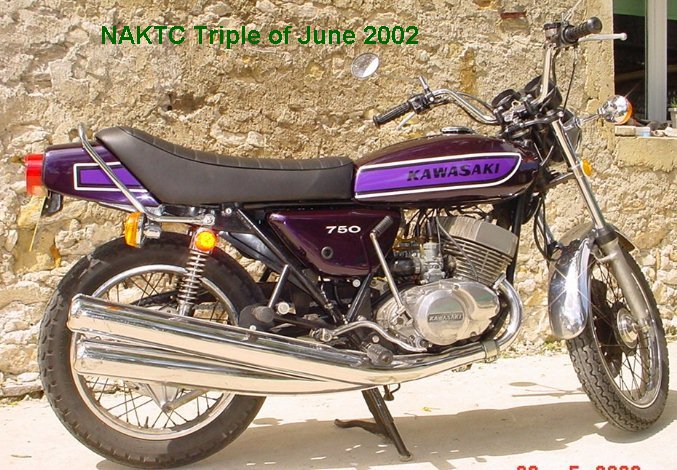 Submitter: JJ Kousignian of France
Bike: '75 H2C
JJ is one of the few triple fanatics from france and is the owner of this 1975 H2C. H2Cs are very rare in Europe. JJ has seen some of the most wicked triples every produced by Millyard at a biggest vintage contest of Europe, known as "Les coupes Moto Légende."
Email: jj.kousignian@wanadoo.fr
---
Triple of the Month (July 2002)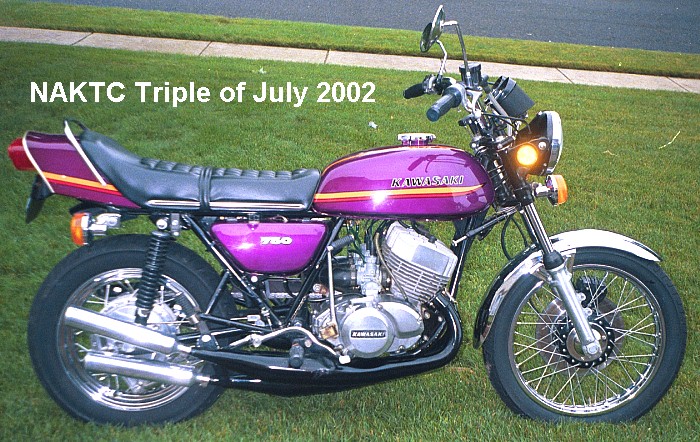 Submitter: Joe Hochreiter (NAKTC) of Yardley, PA
Bike: '73H2A
Original owner, with under 10K miles. Underwent mechanical restoration last year (all paint is 100% original). Factory pipes and Harley wheel/shocks are the only mods (still have original pipes and the airbox is on the bike).
Email: jjh@bbl-inc.com
---
Triple of the Month (August 2002)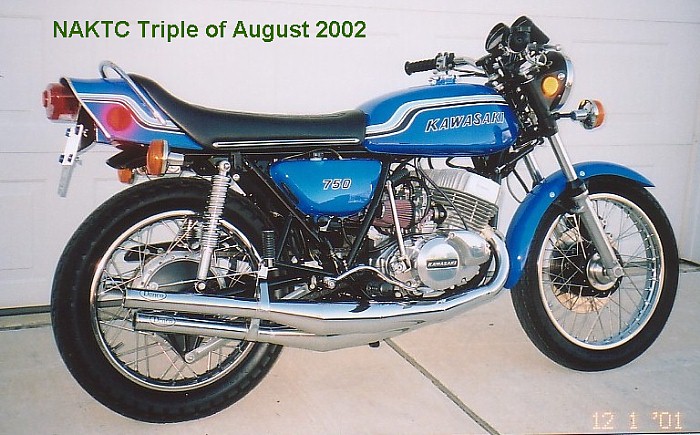 Submitter: Barry Burton (NAKTC) of Texas
Bike: '72 H2
This is Barry's 2nd entry to the NAKTC Triple of the Month. The 1st bike was a purple '73 H2A with slight modification and was selected as Triple of the Year 2000 runner up.
This bike is fully rebuilt from the ground up and has a stage on motor. Heads cut and reshaped, new crank pistons,3 4 mm flat slides, and original chrome Denco's. Motor by Maddog & Decals by Y.T.. Barry is likely to submit a '75 H2C as Triple of the Month in the near future. Great Job Barry!
Email: saintbbarry@charter.net
---
Triple of the Month (September 2002)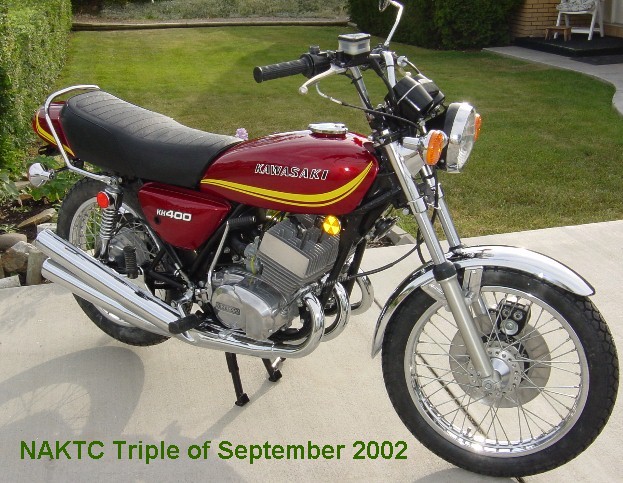 Submitter: Harry Meyer
Bike: '78 KH400
We've definitely seen a lot of the 750s so this 400, especially a 1978 model year, certainly brings a change of atmosphere. At first glance, it looks like a '76 model but after viewing the graphics carefully, it's not. For now, ot a lot of info from the owner but it looks great and deserves to a Triple of the Month. More info from owner may come later.
Email: heliotech@shaw.ca
---
Triple of the Month (October 2002)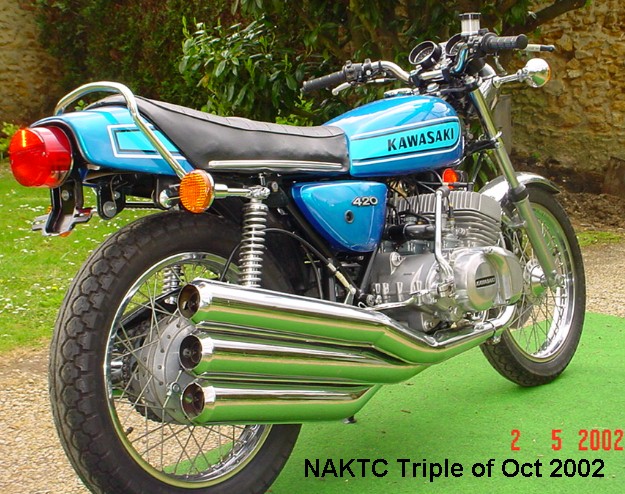 Submitter: JJK of France
Bike: '75 S2 250 - 420 Quintuple
Submitted by JJK from France but no other info is attached. As we all can see, it's another "mad" creation of Allen Millyard's 5-cylinder S2 (420CC). It is in mint condition!
Email: jj.kousignian@wanadoo.fr
Additional info from actual owner(11/19.02):
Hello,
I had a very good surprise on your (excellent) site : picture of my Five in "Triple of the month" ! It's a friend of mine who has sent you this pic without tell me (sorry about my bad american) !
I give you some infos :
Of course it's a Millyard creation. It's one of the first Five engines he built (the second 415 cc in fact). Mine shows 420 emblems cause I have made them from original 400/250 emblems. But real cylinder is 415 cc. I have bought a complete engine to Allen Millyard in 97. The bike was finished in 98 after much work at home on frame, and especially on exhausts pipes ‹ realized from NOS KH 250 parts, with target to get right footpegs position. The S1B frame is fitted with KH 250 front set and an halibut blue
S1C panel body. My Five runs with premix to not enlarge the engine on oil pump case (70 cm
yet !). I ride it 3 or 4 week-ends per year, because we can't homologate it for road in France ‹ the only negative point ! Despite of his weight and his Hummer aerodynamic, maximum speed is a bit better than my 74 400 S3 ; accelerations are identical. One of your compatriot has received recently his huge H2 1300 Five on the same formula (the biggest two stroke ever made ?), and Allen works now on an
incredible Z 2600 cc V12 that we'll discover in may 2003 at the Moto Legend Cups (big show here) !
Thank you again.
Christian Delahaye -Email: chrisdela@wanadoo.fr
---
Triple of the Month (November 2002)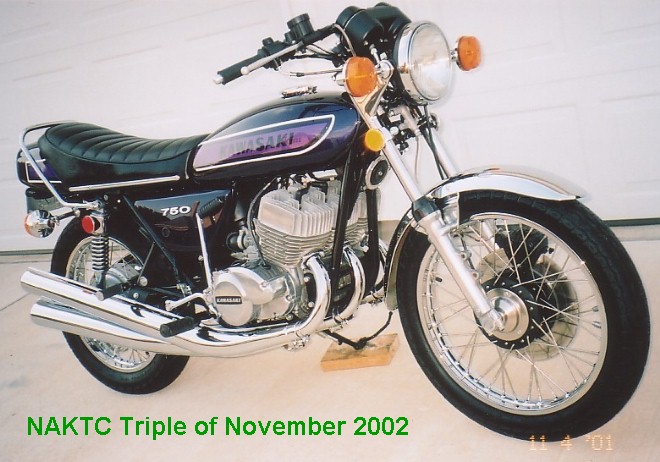 Submitter: Barry Burton of Texas (NAKTC)
Bike: '75 H2C
Another prestine piece from Barry's collection. Totally restored H2C. Just look at it! Let the picture speak for itself.
Email: saintbbarry@charter.net
---
Triple of the Month (December 2002)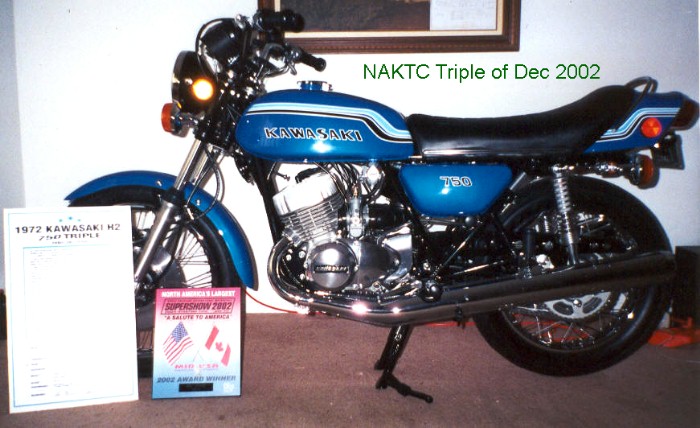 Submitter: Greg Peters of Canada (NAKTC)
Bike: '72 H2
Greg landed 1st place in the "Vintage Asian" class with this restored 72 H2 at the Motorcycle Supershow, Toronto, Ontario Canada. During the restoration period, the bits & pieces and the skeleton of the bike were all in Greg's living room -- now that's what "obsession" is all about.
Email: kawabunga@golden.net (this email is no good)
Greg - please email Y.T. with your correct email @ knyt@sbcglobal.net