YT's 1st Restoration of H2C
Post Date: Jan 25th, 2006

Shortly after the start of the NAKTC in Summer of 1997, I just couldn't resist purchasing another 1975 H2C. The bike still had the original bodywork but faded as expected. Because it had only 6,000 miles, and it was a rare H2C, I took my chance from an unseen sight. The bike came from state of Maine, which translated to another $550 of transporting fee from Federal Companies. It's been almost 8 years to the write up of this story so I don't really remember exactly how much did I pay for the bike.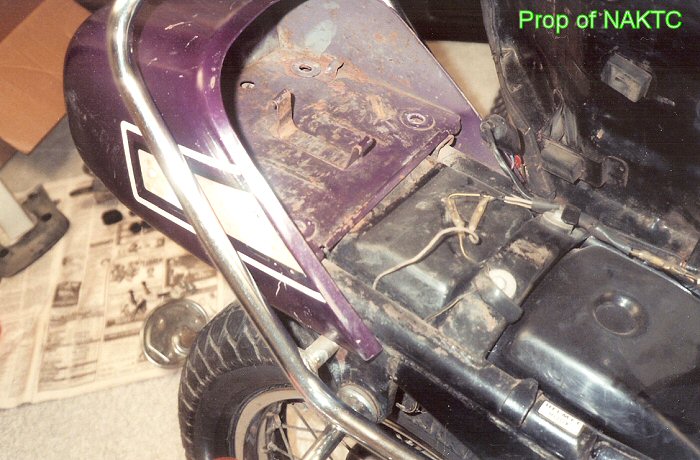 Not a pretty site, but not hopeless at all.
It was a fairly straight forward project without major hurdles. Getting the paint right wasn't a piece of cake by all means -- took several trials with the painter until he was about to toss me out of his shop. I had 2 sets made -- 1 set was a bit darker with painted graphics and the second set was closer and had vinyl decals. Before the vinyl decals, I tried the water transfer decals but without success. The water transfer decals wrinkled easily and was tearing away. You really must know what you are doing if you plan on using the water transfer type on your restoration project.

While the bodywork was sent out for painting, tons of hours was poured into detailing and some touchups on the bike. Everyday after work and weekends, I would hit the basement and labored away. I really enjoyed seeing the results after the work throughout the restoration process.

When the bodywork was ready and mounted on the bike, it was like seeing a birth of your child. I didn't really do anything to the motor, just hooked up the carbs and lines, check the oils and brakes, then fire it away. I always started with 1 to 3 kicks.

---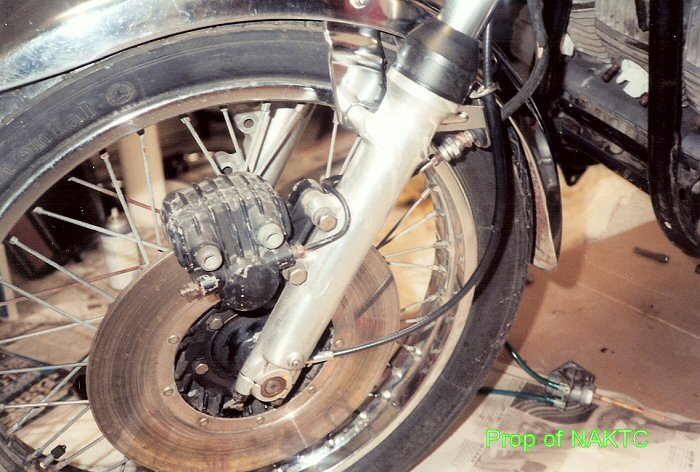 Before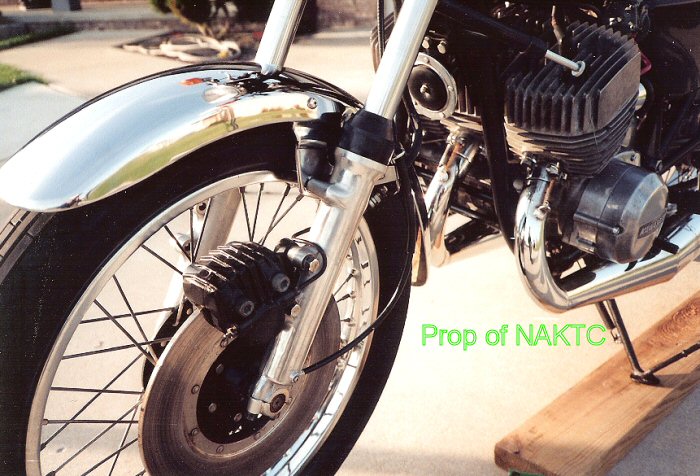 After
---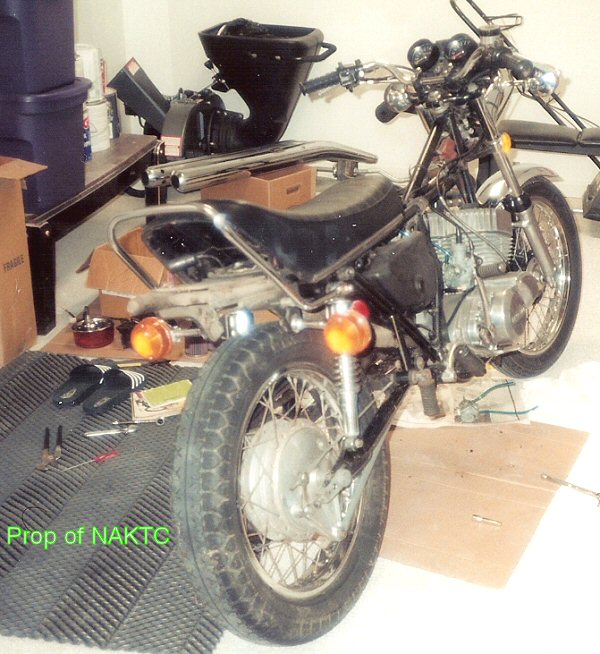 Before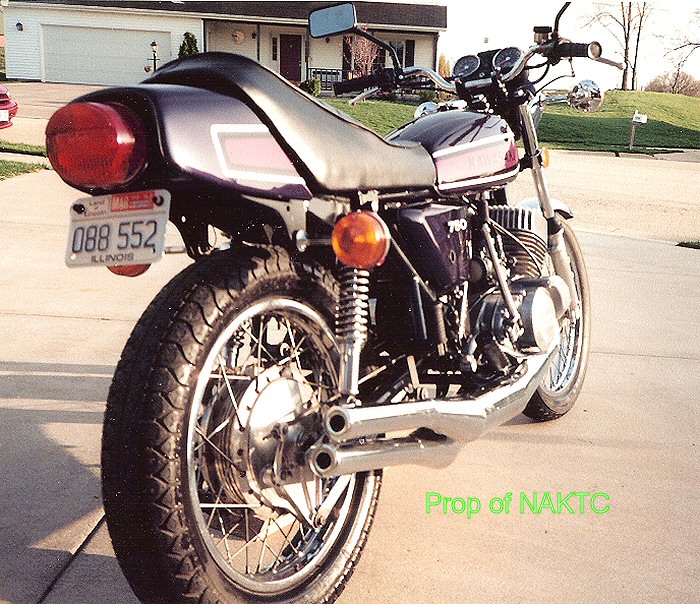 After - Darker bodywork and painted graphics

---

Before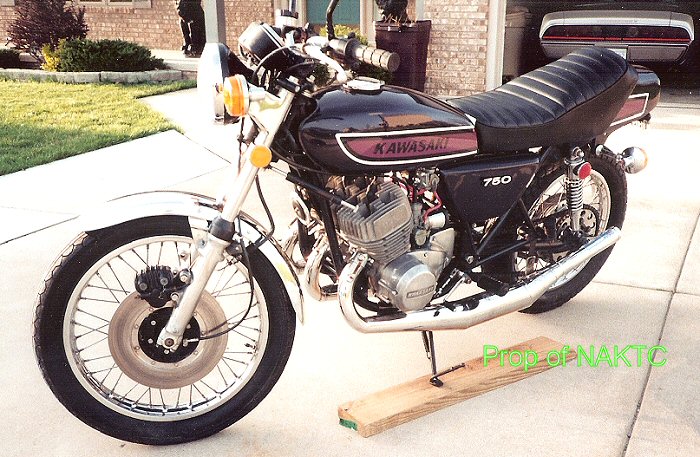 After -
superbike handlebars, sport mirrors & sporty seat

---
Since the bike had chambers, I had to rejet the carbs, adding new filter pods, the results should be noticeable better than stock. The combination of lower handlebars, black mirror, and reshaped seat, the bike really take on a more aggressive stance.
---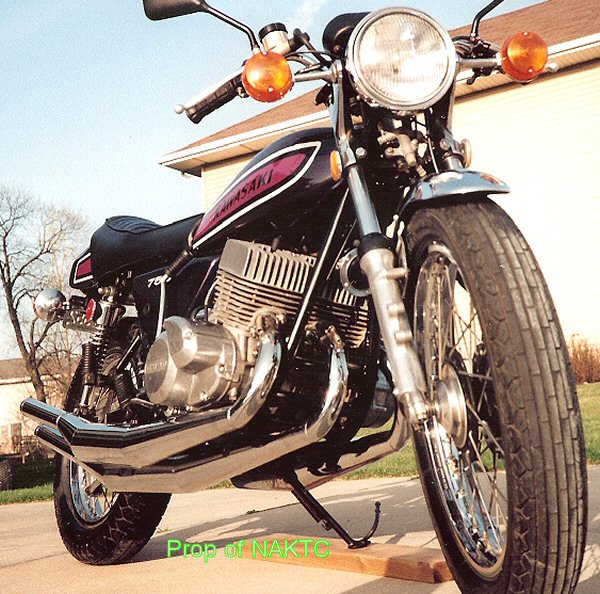 Another interesting view

---
<>

Regret to say but I cannot keep it. I had other plans on getting more triples so it had to depart for a new owner. I sold it to a member in California. The buyer wanted the second bodywork with the decals, stock seat and pipes. There were still more nick-nack stuff to be done, but that was on the new owner's agenda.

><>><>
>

The pictures below show the conversion back to a more stock look. I still have the darker bodywork, the Wirges pipes, and the sporty seat which I am using on another H2C (this is a different restoration project).

---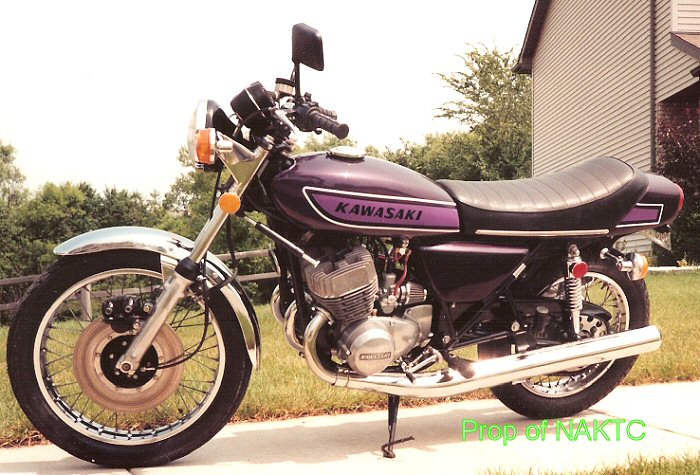 A few final pictures before saying good-bye!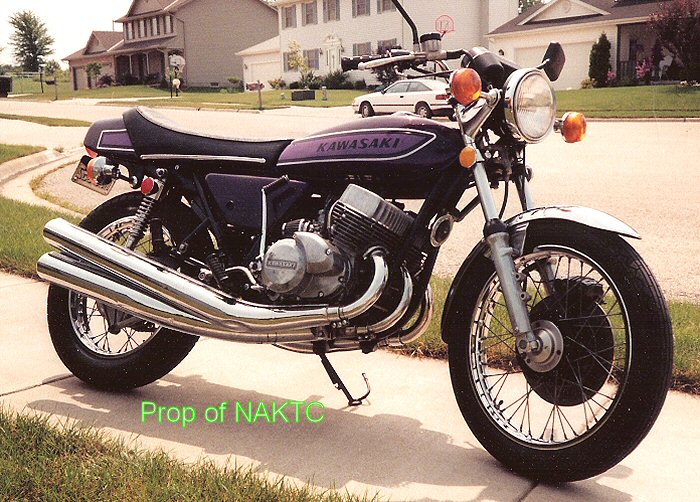 ---
Before it was shipped out, I took a short ride to make sure it was in working order.
As with all good things must come to an end...enjoy the steaming video!



TEST RIDE VIDEO



---
Back to NAKTC Index page