NAKTC - News & Info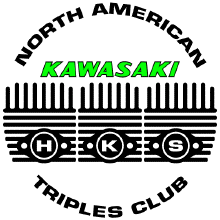 ---
ANNOUNCEMENTS:
Project XTR
- Project has begun on Feb 2004 but the idea was established well before that. The XTR is about building a new NAKTC icon.
Please email at
knyt@sbcglobal.net
if you're interested in support.
This is your chance to take part of what possibly "history in the making"

by purchasing XTR T-shirt(s). I will be taking pre-orders of XTR T-shirts.
All contributor's names will be engraved on a ceremonial plaque when the project will be unveiled at the 7th NAKTC meeting at Midohio in July 28, 29& 30 in 2006.
---
Triple DVD
---
NAKTC on Wheels
- The home of the NAKTC is in Peoria, Illinois, but it is also on wheel on
June 2004
. Everything about the club is being incorporated into a this 8.5' by 20' enclosed trailer. Eventually, the club icon from the project XTR will be displayed in this trailer.

---
7th Annual Mid-Ohio 2006 NAKTC Triples Meet
When: July 28 (Fri), 29 (Sat) & 30 (Sun)
Where: Mid-Ohio(Lexington, Ohio)
Who: The NAKTC will have a corral setup in the infield. Everyone is welcome to park their triples in the corral. We will have screaming triples there ranging from mild to wild, including the NAKTC and other dragsters. Please stop by to chat with us even if you are not a member.
Web Site: http://www.midohio.com
Hotel & Other Info:http://www.ama-cycle.org/vmd/2003/ (direction, lodging,schedule)
This year we are planning on celebrating our 7th NAKTC meeting at Mid-Ohio. We will introduce and formally initiate other officers to the club. We will have more structured activities -- bike show with awards, group ride, bike wash, refreshments, parts, DVD, bikes, club pins, t-shirts, clocks and other collectible items. We are even thinking about some kind of raffle. We want this event to be very special this year and hope to make it biggest ever. Guests are always welcome to park your bikes there throughout those 3 days. There will be a number of great triples in the corral so come by and hangout. We will also accept new members. To celebrate our 7th meeting,
project XTR will be unveiled
and special events are being planned to make this a very memorable meeting.
---

Prostar Super Eliminator 2-Stroke Dragcracing Events
---
---

NAKTC Racing
Graphics by Y.T.
Painted by Owen Warfield
Crew Chief: Shawn Meeks

Bike ran the very first 1/4-mile in Cordova, Illinois, with E.T. 10.03 sec @ 135.6 mph.
Bike made a second 1/4-mile run with E.T. 9.89 at Memphis, TN - IBDA October 26 - 28, 2002.

Picture (close-up)
Picture (side and top views)
Video Clip - 9.89 Second 1/4 mile pass

There is also a blue H2 dragster
1st appearance at St. Louis, Gateway Internaltional Raceway, May 31 & June 01, 2003 - ran 10.35 in a 1/4.
St. Louis 2004 - Bike was flirting with breaking into the 9's at 10.0 in a 1/4-mile with a 250 lb rider

---
Congratulations to the following winners!

NAKTC 2005 Triple of the Year
Rick Gannon - '69 H1 from January Triple 2005
NAKTC 2004 Triple of the Year
Carlos of Brazil - '73 H1 from November Triple 2004

NAKTC 2003 Triple of the Year
John Plank of Texas - '75 H2C from June Triple 2003
NAKTC 2002 Triple of the Year
Marc of Belgium - '71/72 H2 from May Triple 2002

NAKTC 2001 Triple of the Year
Tony Darata of Texas '72 H1B from August Triple 2001
NAKTC 2000 Triple of the Year
Scott Spence of Florida '72 Modified H2 from October Triple 2000
NAKTC 1999 Triple of the Year
Ron Hansen - '74 H2B from December 1999
---

2nd Annual Mid-Ohio 2001 NAKTC Triples Meet RECAP - Posted on Aug 24, 2001
We had a bigger turnout than last year. At one point, there were around 30 triples in our corral ranging from "mild" to "wild" as "Killswitch" described it. This time we gained another full-blown dragster, brought over by "Chainsaw." Can you imagine 3 dragsters screaming at the same time? Let's put it this way, a combined of around 450hp with 9 stingers blasting loudly and rapidly where people can hear from the far end of Mid-Ohio. We gained 9 new NAKTC members on the spot this year so I expect next year's meet will be even more exciting.
The Canadian Triples Riders joined us for the parade laps and it was an absolute joyful moment. "Killswitch" and Greg Patton laid some rubber on the track while Boilerfan and YT carried the NAKTC flag around the track to mark our presence. The members helped out with the event including cooking out and bike show which made the meet very very pleasant and enjoyable. More recap later on the link below.
NAKTC Mid-Ohio 2001 Triples Meet
---
1st Annual MID-OHIO NAKTC Triples Meet RECAP - Posted on 7/10/00

We made it there and back...what a BLAST! There were around 20 triples all together hanging around the NAKTC Corral. 2 notorious full-blown H2 Dragsters generated a "BIG BANG" at the meet. The rest of the triples generated endless conversation. We're all EXTREMELY GLAD to be there and got to meet half a dozen of NAKTC members for the 1st time. There wasn't a moment all day long when we didn't chat to visitors at our corral. Lost count of how many visitors stopped by. We made a BIG SCENE and everyone was thrilled. The laps around the race track was incredible...no wheelies allowed but "killswitch" and "evel" paid no respect to the rule. If you never been to Mid-Ohio AMA Vintage days before, all I can say is you absolutely must try to make it the next time. My throat (other members, too) is very sore now from rambling away about the triples.
---
NAKTC Index Page



---