NAKTC T-Shirts & Goodies

Email Y.T. for order: knyt@sbcglobal.net

---
NAKTC Club T-Shirt (large logo on back and NAKTC lettering on front)


All sizes available but some may have to be special order


$12 (member)
$15 Only if any left (non-member)
Shipping/Handling: $5 US - $8 Canada
Shipping/Handling: $12.00 (Overseas)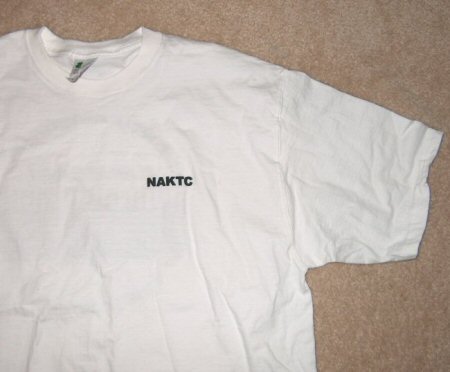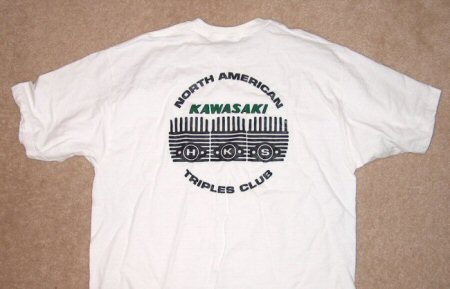 ---
XTR T-Shirts
This is a pre-order. Shirts are expected to be available in March 2006.
All sizes will be available. Email Y.T. to place order. $15 each

---


NAKTC 2005 T-Shirts
Commemorate 30 Years of 1975 H-2C Legend
The artwork is hand-drawn and signed by Y.T.
Only size XL are available
$12 (member)
$15 Only if any left (non-member)
Shipping/Handling: $5 US - $8 Canada
Shipping/Handling: $12.00 (Overseas)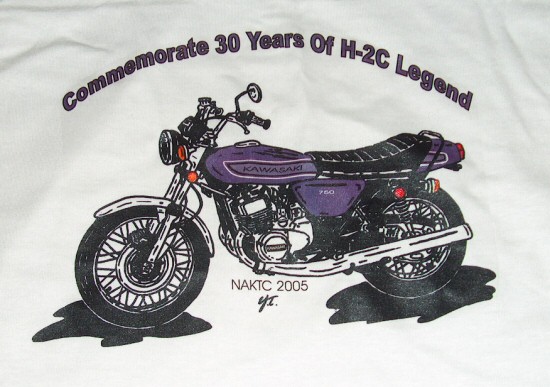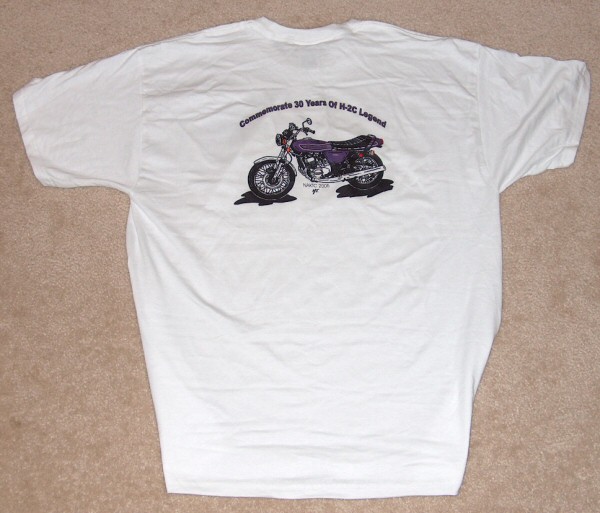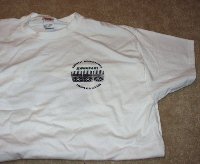 ---

NAKTC 2003 T-Shirts
Commemorate 30 Years of 1973 H-1D
The artwork is hand-drawn and signed by Y.T.
Only size XL are available
$12 (member)
$15 Only if any left (non-member)
Shipping/Handling: $5 US - $8 Canada
Shipping/Handling: $12.00 (Overseas)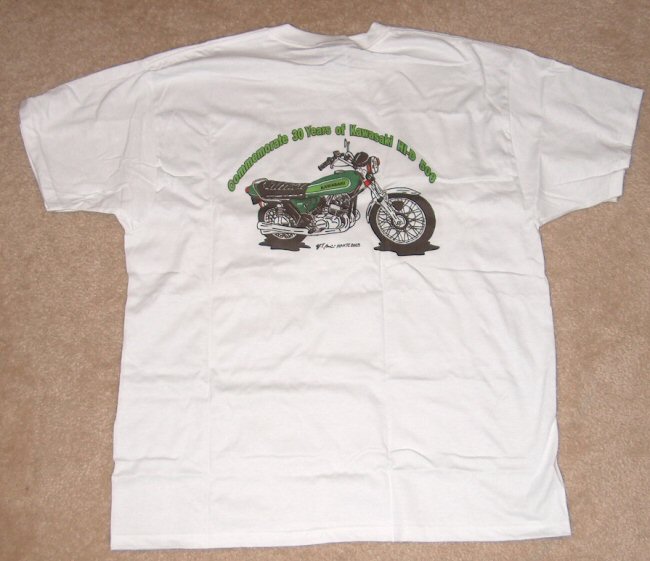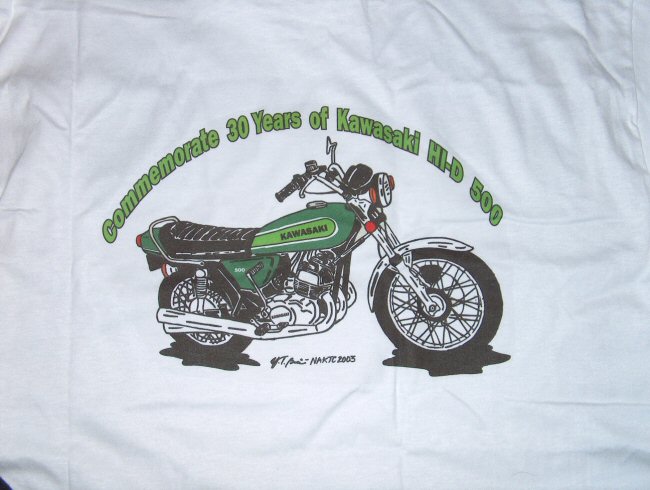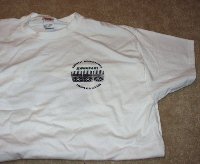 ---
NAKTC 2002 T-Shirts
Commemorate 30 Years of H-2 Excitement


The artwork is hand-drawn and signed by Y.T.
Only size XL are available
$12 (member)
$15 Only if any left (non-member)
Shipping/Handling: $5 US - $8 Canada
Shipping/Handling: $12.00 (Overseas)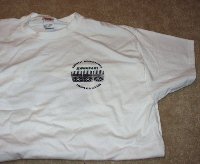 Click on image for larger view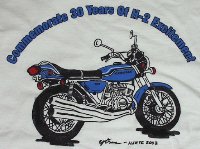 Click on image for larger view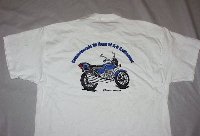 Click on image for larger view

---
NAKTC 2001 T-Shirts
Mach power.....tower of excitment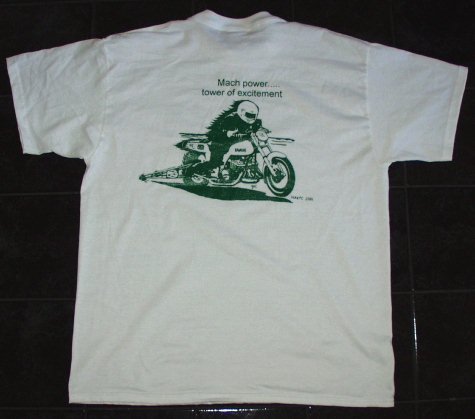 Visit link for more pictures: http://kicon.com/yttriple/midohio2001/naktc2001-shirt.html
The club T-shirts are so popular that only 2 left
The artwork is hand-drawn and signed by Y.T.
Only 1 XXL left - $15
Shipping/Handling: $5

---
<>

Triple DVD

- DVDs of past triple gatherings.

Available Now for $15 each!


2002 in one DVD, and 2003 & 2004 in one DVD
>Sample video clip

( 6-minute clip of 14Meg streaming video file, actual DVD video is much clearer than sample clip)

Shipping/Handling: $5


<>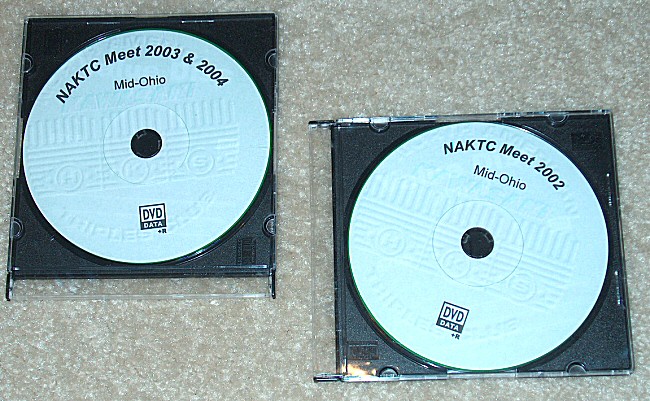 >
---
1st-generation NAKTC T-Shirt - 1998/1999 -
No longer available
Gordon Norrie produced 50 shirts . These shirts were limited production and is the 1st-generation club shirts. The chosen phrase was " Make Mine a Triple" and was submitted by an NAKTC member, Bruce (NOS) Trimble. Congratulations Bruce & Thanks Gordon.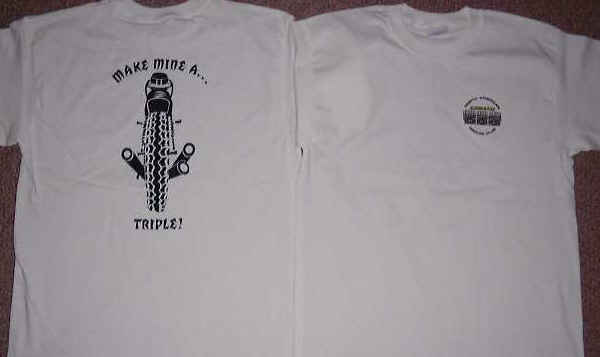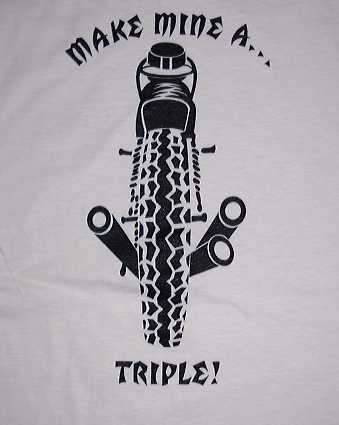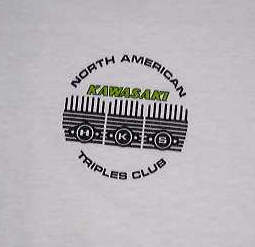 Kaydra (YT's daughter and a youngest member of the NAKTC) is showing off
her todler zize club T-shirt along with her favorite Kawasaki Ninja 4-wheeler.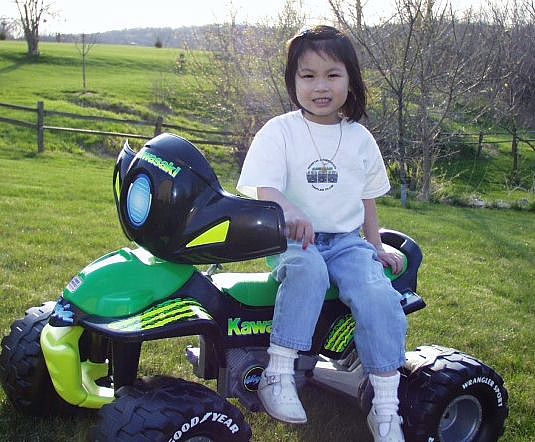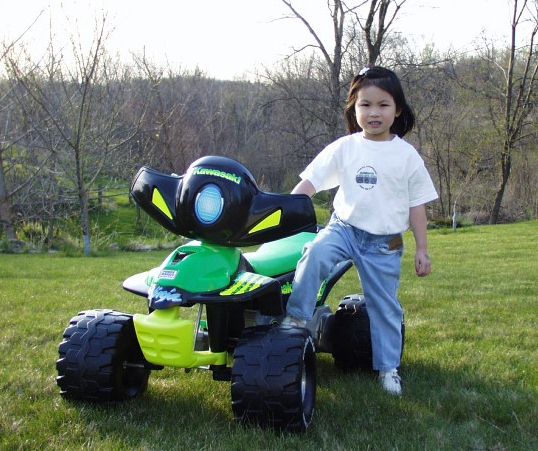 ---

NAKTC Logo Decals (high quality thin vinyl) are available for sale at cost for $4.00.
The diameter of logo is 3.5 inches.
You can stick them just about anywhere you wish

The decals are available in 2 print styles:
Clear background with black prints and green Kawasaki (apply on light background)
Clear background with white prints with green Kawasaki (apply on car windows or dark background)

Actual decal looks better than the picture (a bit dark) below.

---
NAKTC Pins For Sale
Pin is same size as a nickel
Pin is made out of Sterling Silver
Members should email to order.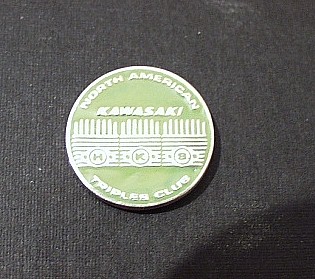 ---

NAKTC Clock - Model after a speedo. A tach version is being considered.

$20 (last one)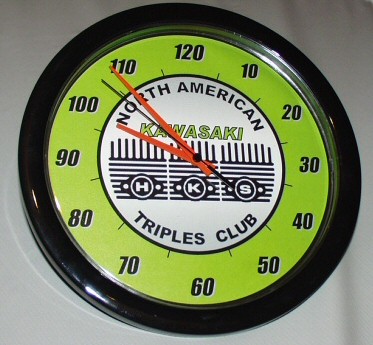 ---
NAKTC Index Page

---