NAKTC - Index Page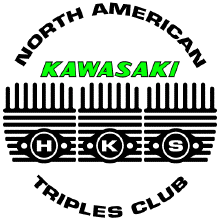 ---
Welcome to the North American Kawasaki Triples Club (NAKTC). This club was formed in August 07, 1998, with the purpose of promoting the preservation of Kawasaki 2-stroke Triples to generate tons of excitement. Our logo integrates triple letters of: H, K, and S. H stands for H-series (Hyper, Hysteria); K represents KR & KH-series (Kick-butt, Knock-out); and S for S-series Triples (Serious, Stimulating). To be eligible as a member, you only need to have passion for Triples regardless of your geographical location and ethnic background. Our mission is to enjoy these classic bikes with always safety in mind.

"Ride it once and live it forever."

The final touches on NAKTC logo was done by Gunnar Linn, President of SKTC.

Founders: Y.T. Bui (U.S.) & Gordon Norrie (Canada)

Gordon's 1st S1A and YT's 1st H-2 that triggered this website.

---
Site updated on September 2009

Best to view with 1280X1024 resolution or higher

---
Triple of the Month
(September 2009)

Submitter: Ralf & Jeannette Gille (NAKTC Member) of Germany
Bike: '69 H1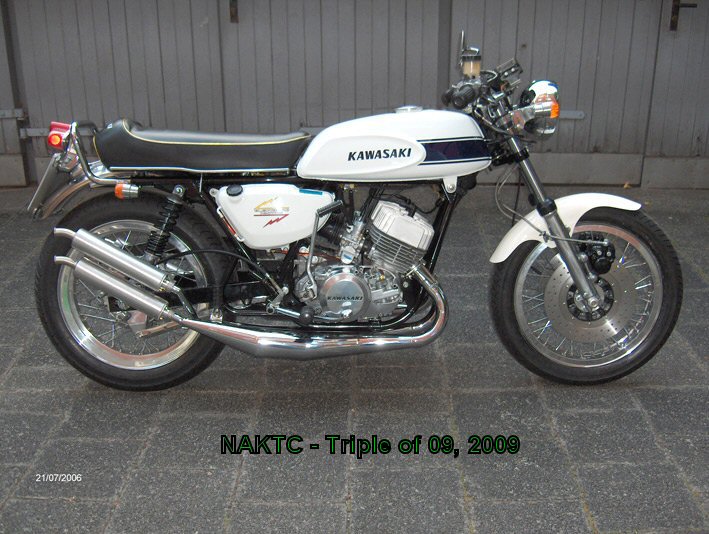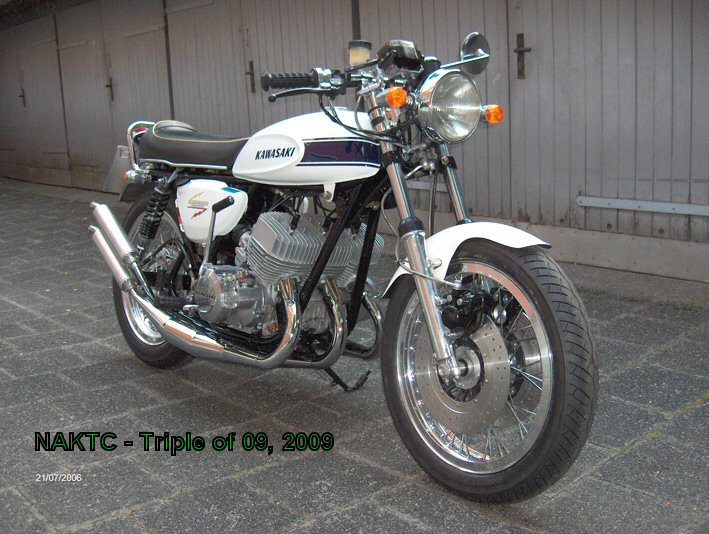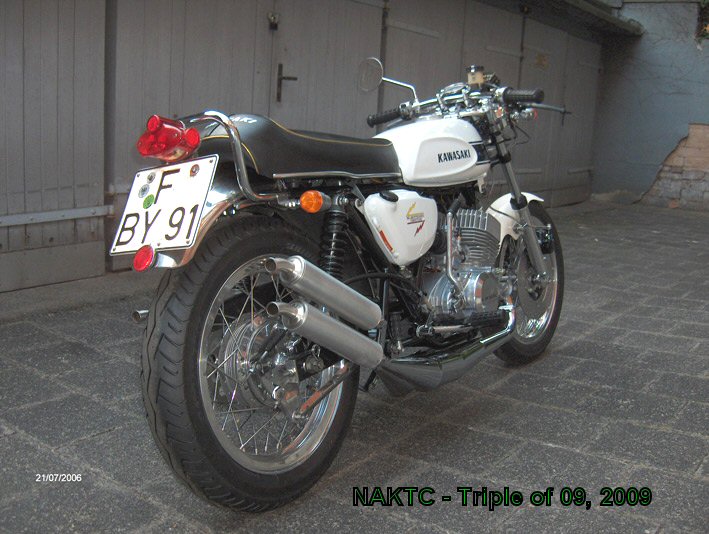 Ralf and Jeannette are very passionate about their triples as it shows on this '69 H1. You normally would see modifications done on later models, so attacking a first year H1 takes a lot of careful thoughts. When modifications are done right, it looks like it came from the factory floor. With the aggressive stance, GP stype exhaust cannister, modern rubbers, dual disks, sporty fender and modern gauges blending in with stock looking body, this H1 is probably the best example of a modified anywhere.


---
Look further down for more exciting stuff


---
I decided to post

a shotgun style restoration projects

and keep the updates as frequent as possible. I welcome comments, questions and critiques. I don't want to take forever to get the projects done. But if I can't locate the parts, the delays are inevitable. Of course, I have to balance work, family, classes, NAKTC site and these multiple bike projects and hope I don't get burnout. Wish me luck because I need it!

Please check back for frequent updates as these projects are meant to be pseudo interactive.


Project 1975 H2C Restoration:

Got an email from a guy that he wants to sell an H2C that he bought brand new in 1976.
Below is the exact emai:

I have a 1975 H2C for sale. 

I bought the bike in April of 1976 and had an accident in May of '76.
the bike has 790 original miles.  The tires are the exact tires that
came off of the showroom floor.  It needs a seat, carbs (someone was
going to rebuild in 77 and took the carbs. Not seen him or them since).
A front fender, a left front shock and a rim for back tire; current one
is bent and a left hand side cover.  Other than those parts the bike is
completely there. 

If interested please call: 217 XXX-XXXX. I live in Glenarm,
ILL.
Immediately, I got suspicious and a little excited, so I called the guy up to find out what's the scoop.  It turns out that he crashed it and never got it fixed since 1976. He didn't say how bad was the crash and I did not ask. On August 16, 2008, he delivered the bike to my house for $800. It only took me a split second to assess the bike and figured out that the crash was not minor. I think it did some somersaults and a cartwheel. Any way, I am determined to bring life back to this bike.  Any surprises I find, you'll find out soon because I will try to post soon after. 

Left side cover and seat are missing in action. 
Has to be the roughest but lowest mileage that I've ever encountered



 

More on this project => 75 H2C 790miles


---
Project 1974 G5100 Restoration:

Another chapter on rescueing barn bikes.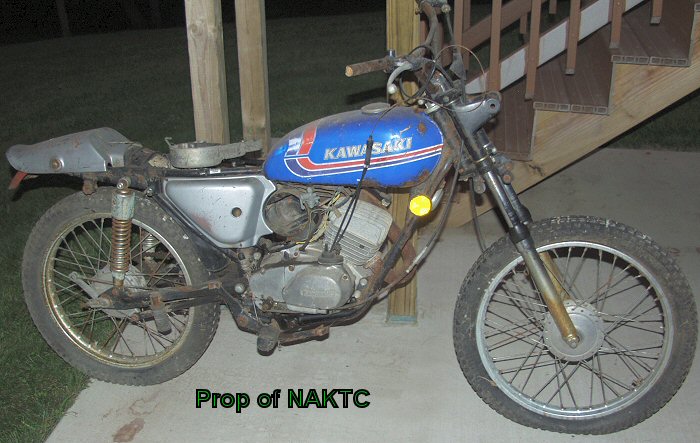 More on this project => 74 G5
---

Project 73 F7B => link available soon
Project 73 F11
=> link available soon
Project 74 KX450
=> link available soon
---

NAKTC Projects in the Works


The projects below are longer terms. Only signigicant milestones will be updated. It could be months before any new pics to be posted.
H2 "Outlaw" Streetfighter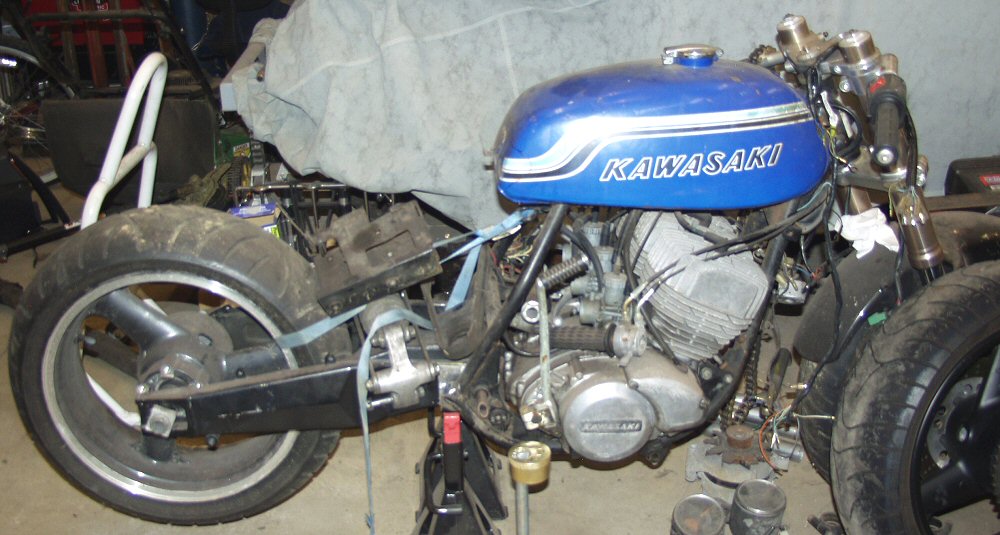 More on this project =>  NA
---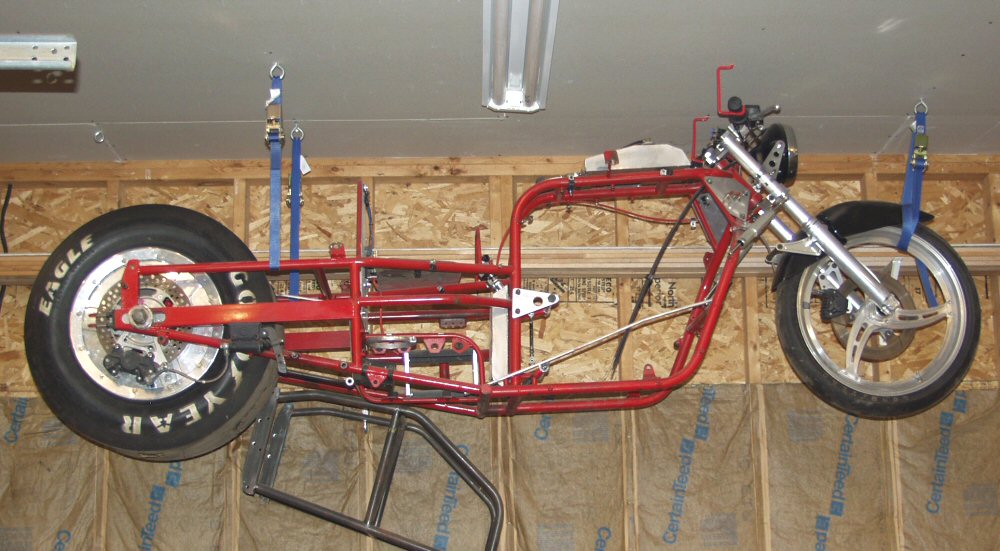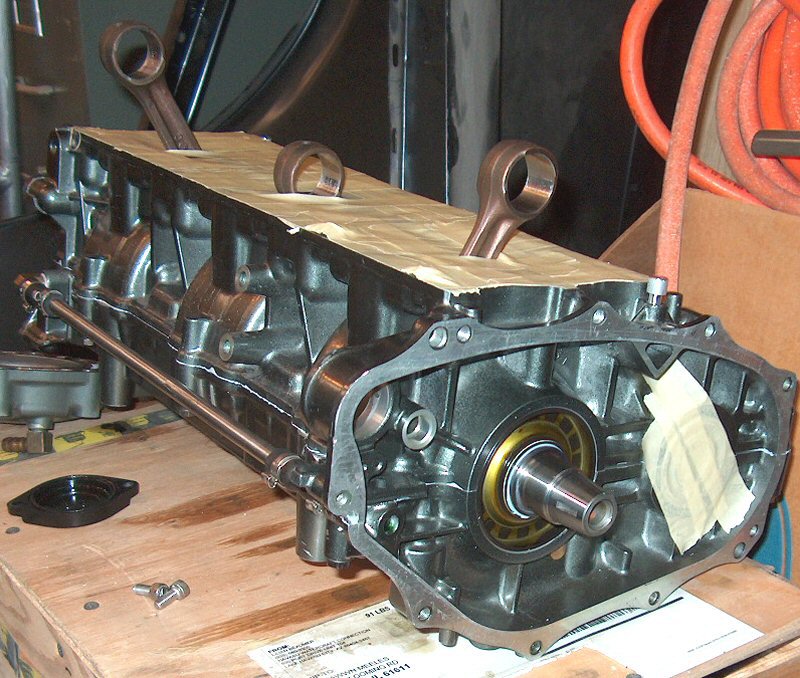 More on this project => XTR2 
---
Custom Extended Swingarm with Monoshock (H1, H2, KH400, ZX12, ZX14, ZX7R, ZRX1200, Busa, and others)
A total replacement, not a welded to the old swingarm
Wana be different from the rest of your friends?

Big-guy has built one for his ZX14 and it smokes the rear tire at will


Email to

knyt@sbcglobal.net if interested in ordering a kit

Price will vary but should be affordable

Images below from a ZX14 but you should get an idea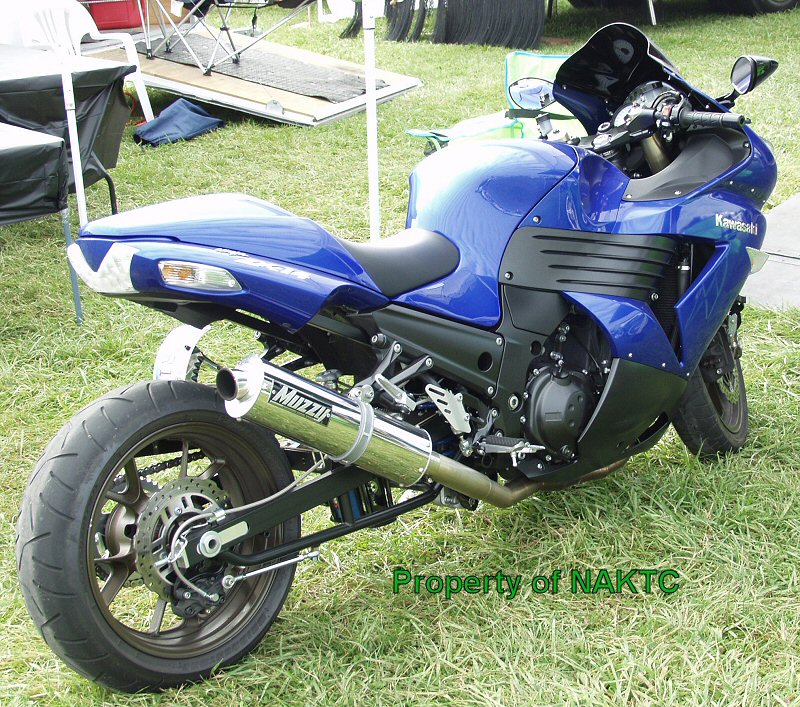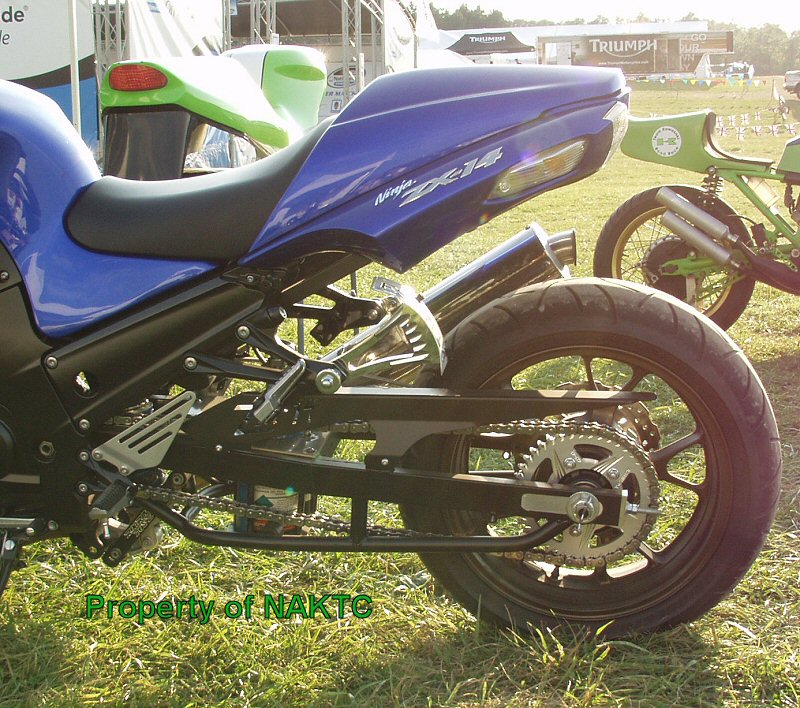 ---
Feature Stories / Videos
Bike Galleries (Separate gallery is also available to members only) - Updated during March 2006

Newsletter or other special info (available to members only)
Classifieds (Free to all members 'til sold; non members 6 weeks, take advantage of it!)


Free registration
Non-members are absolutely welcome

Get help or simply chat with other enthusiasts


Join NAKTC (Inquiries should be made by email)
---
---
NAKTC Members Only

Please email knyt@sbcglobal.net if you have questions.


---
Please Email picture (good quality is higly desirable) & description to
NAKTC
to enter for the next Triple of the Month.
If you only have 35mm pic(s), email me for mailing address.

We also collect actual photos for an album and take it to bike events.

---
To celebrate the NAKTC 10th Anniversary, special membership is being offer for $30 for 3 years.
---
NAKTC Message Board
This board should be fine for now.
We may locate a better board later.
Free registration. Non-members are welcome.
Get help or simply chat with other enthusiasts.

---
END OF MAIN PAGE

---